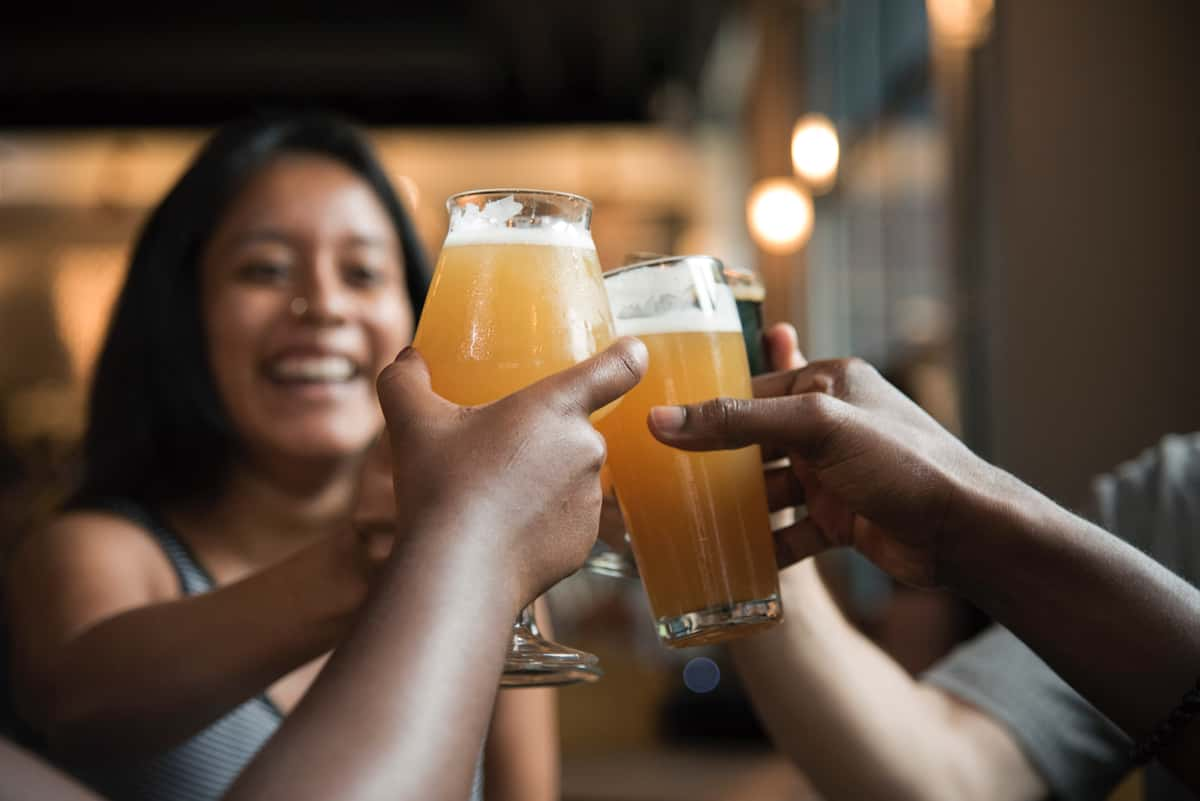 Menu
Become a VIP
Be the first to receive updates on exclusive events, secret menus, special offers/discounts, loyalty rewards & more!
Menu
Cocktails
Rye Old Fashioned 12
Templeton 4 yr Rye Whiskey, chocolate bitters, luxardo cherries & caramelized orange
Strawberry Rhubarb Gin Splash 10
Ha'Penny Rhubarb Gin, strawberries & balsamic simple syrup topped with soda & fresh basil

Blackberry Gin Splash 10
Brockman's Gin, blackberries, fresh lemon juice, a dash of simple syrup and a splash of ginger ale

Irish Peach 12
Jameson's IPA Caskmates, peach puree, fresh lemon juice served

Martini

style with a twist of black pepper
Hot Paloma 10
Corralejo Blanco Tequila, jalapeño infused simple syrup & fresh lime juice topped with grapefruit soda

tbb Sangria 10
Cabernet, St. Georges Pear liquor & sweet vermouth combined with orange bitters and ginger beer
Chocolate Covered Cherry 12
Wheatley Vodka, Luxardo Cherry liquor & chocolate bitters with cocoa & sugar rim

Peanut Butter Russian 11
Skrewball Peanut Butter Whiskey, coffee liquor & cream
We also offer Mimosas and Bloody Marys! Check out the Brunch Page for details!
House Grapes
Albertoni Wines - California 6
Available by the glass
Chardonnay
Light, straw colored, caramel & pear aromatics with a rich creamy finish
Pinot Grigio
Aromas of pear, tangerine, honeysuckle & light apple, excellent balance
Cabernet Sauvignon
Fruit forward, aromas of boysenberry, raspberry & licorice with a jammy body and a hint of lightly toasted oak
Merlot
Hints of wild berry and black pepper aromatics with a complex body offering flavors of plum & black cherry
Featured Grapes by the Glass & Half Bottle
Ryder Estate Pinot Noir Rose Glass 8 Half Bottle 15
Refreshing & vibrant, strawberry and cherry flavors with a fresh, juicy finish. Sustainably farmed along California's Central Coast
J.Lohr Chardonnay Glass 10 Half Bottle 19
Youthful & textured with flavors of white peach, floral, citrus, baking spices & honey from Paso Robles, California
District 7 Cabernet Sauvignon Glass 10 Half Bottle 19
Big dark fruit infused wine packed with blackberries, raspberries and cassis with well integrated tannins from Monterey, California
Extraction Pinot Noir Glass 12 Half Bottle 23
Aromas of strawberry, cider & creme fraiche complimented by flavors of black cherries with focused tannins and a long finish, oak aging adds hints of vanilla from Central Coast, California
13 Degrees Celsius Sauvignon Blanc
Glass 10 Half Bottle 18
Aromatics of citrus followed by crisp minerality and sweet herbs with refined acidity and a refreshing finish from Marlborough, New Zealand
VDR, Very Dark Red Glass 13 Half Bottle 25
Sustainably farmed, full bodied, petite blend with flavors of deep, ripe black currants and black raspberries from Monterey, California
Salads
Always fresh, always made to order
Seasonal Salad
$12We use the fruits of the season for this creation so this will change throughout the 

Currently featuring...mixed greens, fresh blueberries & avocado, onion, goat cheese and roasted chickpeas with our balsamic basil vinaigrette.Grilled Chicken +$6Blackened Chicken +$6Hangar Steak +$11Bison Bacon Patty +$8Meatless Burger +$10Candied Pecan Chicken Salad +$6
tbb House Salad
$6Mixed greens, onion, tomato, bacon, feta cheese, sunflower seeds & chow mein noodles

Choice of housemade dressings...honey peppercorn vinaigrette, ranch, blue cheeseGrilled Chicken +$6Blackened Chicken +$6Hanger Steak +$11Bison Bacon Patty +$8Meatless Burger +$10Chicken Salad +$6
Bison Bacon Burgers
All burgers are handmade bison bacon patties, served with choice of side.
Substitute a housemade meatless burger for just $3
Sandwiches & Such
Featuring Boar's Head meats & cheese
All sandwiches served with a side
~Fresh Cut Idaho Fries
~Fresh Cut Sweet Fries
~Seasonal Veggies
~Cucumber, Onion & Tomato Salad
Sides
Fresh cut Idaho Fries
Fresh cut Sweet Potato Fries
Seasonal Veggies
Tomato, Cucumber & Onion Salad

House Salad +3
Loaded Tots +5
Kitchen Beers
Show the kitchen crew 
a little appreciation 
by buying them 
a round!
Just $10 

🍻

 
Boozeless Beverages
BOYLANS BOTTLED SODAS




root beer
creme soda
orange soda 


black cherry
BUBBLE WATER




Lagunitas Hop Water





Fruited CBD Water





San Pellegrino
NON-ALCOHOLIC BEER
Athletic Blonde Ale
Athletic Mexican Lager
Athletic IPA

FOUNTAIN SODA
Coke
Diet Coke
Sprite
Ginger Ale
Lemonade
Unsweetened Iced Tea


Beer - Bottles & Cans
Beer of all varieties




Reisdorff Kolsch
  4.8%  16.9oz.  7
Weihenstephaner Hefeweissbier
5.4% 12oz. 6




Weihenstephaner Dunkel




5.3% 16.9oz 8.50
Sweetwater 420 Strain G13 IPA
6% 16oz. 7
Baltika #9 Lager
8% 15.2oz 6
3 Daughters Beach Blonde Ale
4.7% 12oz. 5




Oskar Blues Old Chub Scotch Ale




8% 12oz 8
Cycle Cream & Sugar, 

Please Coffee Porter
4.9% 12oz 6
Sierra Nevada Pale Ale
5.6% 16oz 6




Terrapin Luau Krunkles


6.5% 16oz 6
Sierra Nevada Tropical Torpedo
6%. 16oz 6


Untitled Art This Stout Just Got Serious 
Imperial Pastry Stout
11% 12oz 11




Champion Shower Beer Pilsner




4.5% 12oz 5




Company Values Foresight Strawberry Banana Sour




6.2% 16oz 10


Terrapin Hopsecutioner IPA
7.3% 16oz 6
Terrapin Recreation Ale Session IPA
4.7% 16oz 6


Lagunitas Daytime 98 Calorie IPA
4% 12oz 5
Northcoast Pranqster Belgian Strong Ale
7.6% 12oz 8




Green Bench Skyway Haze DIPA




8.2% 12oz 6.50




Coppertail Free Dive




5.9% 12oz 5




Collective Arts Origins of Darkness 




Barrel Aged Imperial Stout




11.6% 12oz 11 




MIA Tourist Trappe Belgian Tripel




10% 12oz 6




New Belgium Fat Tire Amber Ale




5.2% 16oz 6.00




New Belgium VooDoo Ranger IPA




7% 16oz 6




JDubs Passion Wheat


4.2% 12oz 5










Ciders & Stuff




Untitled Art Various Flavors Hard Seltzer




3 Daughters Orange Hard Seltzer
4.5% 12oz 5


Rekorderlig Various Flavors Cider
4.5% 11.9oz 6